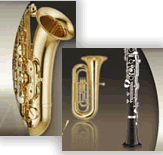 Metal Ensemble on tour in Andean countries
July 21, 2005
As part of the 35th anniversary of the Andean Development Corporation (CAF) and its Social Action Program for Music, CAF presents the talented Metal Ensemble on tour in Colombia, Ecuador and Peru.
Trumpets, cornets and tubas will be present in the Andean countries under the excellent direction of maestro Thomas Clamor, first trumpet of the Berlin Philharmonic in the framework of the Social Action Program for Music that CAF has been promoting since 2000. This exceptional metal ensemble will tour the region for the first time as a key chapter of the Andean Traveling Conservatory (CAI), created by the Corporation in 2002 to strengthen intellectual, artistic and spiritual capacities through the practice of music.
The metal ensemble will start its tour in Bogota on July 19, continue in Quito on July 21 and 22, and Lima on the 24th of the month.
In each country, the ensemble will hold a workshop with young people and children, and give a concert, which will develop into the formation of metal ensembles, multiplying the repertoire and instrumental proficiency of metal instruments and orchestras. The tour will be continued with workshops for strings, percussion and woodwind instruments to form additional groups with a high technical level in each country, providing a double training platform: orchestral repertoire and the instrumental group's own repertoire.
This CAI chapter is a significant contribution to the CAF musical program, especially the Latin American Youth Symphony Orchestra.
CAF Cultural and Community Development Director Ana Mercedes Botero said the main purpose of the program was to strengthen human beings and create spaces for social integration using music as a vehicle for recognizing and valuing civil, social and spiritual rights.
The CAF music movement, which is now a human chain of over 10,000 musicians, has been strengthening the training of teachers, juveniles and children in instrumental interpretation, orchestra direction, choral singing and the lute.