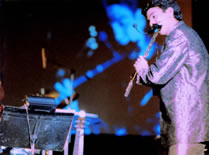 Venezuela: Huáscar Barradas in concert
July 07, 2005
Huáscar Barradas Acoustic Trio, one of Venezuela's most prestigious musical groups, will give a concert in the CAF headquarters on July 7, as part of the Flowers of Narváez exhibition, which the multilateral financial institution is holding in its gallery
For the celebrations of the 35th anniversary of the Andean Development Corporation (CAF) and as part of the Flowers of Narváez exhibition, which is being held in the CAF Gallery – the Huáscar Barradas Acoustic Trio will perform a free concert on July 7 at 7pm in the Antonio José de Sucre auditorium in the CAF headquarters in Caracas.
The event is one of the many cultural offerings organized by the CAF Cultural and Community Development Department, as a contribution to the integrated development and training of human beings through music, as well as exalting and supporting national and regional talent.
The Huáscar Barradas Acoustic Trio has been one of the Venezuelan musical groups with most international projection in recent years. Led by flautist Huáscar Barradas – recognized international soloist, producer and teacher - the group is formed by musical talents such as Elvis Martínez, bass player and excellent arranger, and Jorge Polanco, virtuoso cuatro player considered among the best in Venezuela.
The concert is a perfect mechanism for offering the public a select repertoire of the finest universal musical works, performed with great artistry by this trio of national and international renown. The primary purpose is to delight people who appreciate Venezuelan talent and the merits of this excellent ensemble, which showcases the infinite qualities of our music, material of export quality.
The group's achievements include many international performances, especially the International Folklore Festival in Turkey, Expo-Hanover 2000, Bolivar Hall London, the National Flute Association Convention-2000 USA, the German-Ibero-American Society of Frankfurt, and the XII International Music Meeting in Medellín, among many others. Their music is also heard on the BBC of London and Radio France.