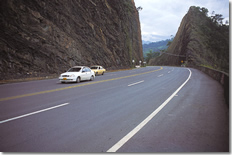 CAF approves US$24 million loan for improvements to the Guayaquil-Salinas highway
August 19, 2005
The cost of the entire project will be US$93 million and the work will be carried out by the Guayas Provincial Council
The Andean Development Corporation (CAF) has approved a US$24 million loan for the construction of bridges, toll plazas and widening of the lanes on the Guayaquil-Salinas highway, in Guayas Province. The agency in charge of implementing the projects is the Guayas Provincial Council (GPC).
The CAF loan will be allocated to pay for the construction of eighteen (18) bridges, two toll plazas and supplementary works such as an overpass or traffic interchange in the town of Progreso, where traffic will branch off to Playas and Posorja, as well as the final access to the Santa Elena Peninsula. Once work is finished, the road will have become a four-lane highway along its full 125 km. stretch.
With this funding, CAF is contributing to the Ecuadorian government's plans for lasting infrastructure that will bring direct economic and social benefits to the country's communities and help improve their quality of life.
In fact, implementation of this project will produce significant savings in both shipping times and costs, making transportation more efficient and providing social and economic benefits for Guayas Province, especially for the residents of the Santa Elena Peninsula. It will help cut down on the number of accidents, improve the quality of service to the users, significantly reduce pollution –both from noise and toxic fumes—while helping ease the serious traffic congestion for beachgoers during the vacation season and on weekends.