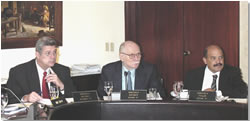 CAF approves US$ 71.76 million for investments in Caracas Subway's operations
CAF has ratified its status as Venezuela's main source of financing with the approval of a loan for US$ 71.76 million for financing Caracas Subway's Operations Investments Program.
CAF has taken part in two prior investments for carrying out this program amounting to US$ 133 million.
The Corporación Andina de Fomento (CAF) has approved an operation for US$ 71.76 million, repayable over ten years and with a grace period of three years, for financing Caracas Subway's Operations Investments Program, to be carried out by C.A. Metro de Caracas (CAMETRO). This is the third loan that CAF has made to this Program (the two previous loans came to a total of US$ 133 million).
The full cost of the Program is US$ 606 million, of which CAF is financing a total of US$ 205 million, US$ 333 million is being contributed from local sources, and US$ 68 million is to be provided by French banks.
CAF's Executive President, Enrique García, stressed that this loan agreement ratified CAF as the main source of multilateral financing of the Bolivarian Republic of Venezuela, for which approvals in the order of US$ 821 million were scheduled in 2004.
With this overall amount of US$ 205 million, CAF is supporting the Caracas Subway's Operations Investments Program, which aims to overhaul, revamp, and replace equipment on the Caracas Subway's operating lines to bring them up to date technically so as to restore four specific components to their original levels of performance: rolling stock, railway lines, electrical-mechanical equipment, and telecommunications system. Moreover, after 22 years of operations, much of the equipment needs half-life maintenance, which is also included in the Program.
In addition, it is hoped to contribute to the development of an infrastructure that will improve the conditions of mass passenger transportation in the city, which is highly populated (an estimated five million inhabitants) and has a high level of economic activity. What is more, the environmental and social impact looks to be highly positive, thanks to the updating of equipment with more environmentally friendly technology, and also to the importance of providing Caracas with an adequate transportation service with advantages in terms of time savings, convenience, and lower levels of pollution.
From the economic point of view, the Program will produce favorable returns, as there will be savings on the acquisition of new conventional transportation units, savings in operating costs of public and private vehicles, and savings in travel time and in fuel.
CAF has financed the Caracas Subway system through the approval of several loans since 1993. Moreover, it has allocated considerable resources for the construction of other mass transportation systems in some of the country's main cities, namely Maracaibo, Valencia, and Los Teques.