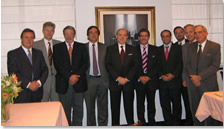 Uruguay: US$ 9.3 million for promoting technological S&MEs
August 09, 2005
Representatives of CAF, IDB-MIF, Prospéritas Capital Partners, and private investors signed an agreement to endow the first Uruguayan International Venture Capital Fund for S&MEs (UIVC) with capital.
With the idea of promoting Uruguayan S&MEs that operate in high value-added sectors and enjoy an extensive potential for growth, such as the technological, agribusiness, and service sectors, the Corporación Andina de Fomento (CAF), the Multilateral Investment Fund (IDB-MIF), Prospéritas Capital Partners (PCP), and private investors signed an agreement to contribute US$ 9.3 million to the Uruguayan International Venture Capital Fund for S&MEs (UIVC).
The UIVC Fund, which is expected to operate for a period of 10 years with an annual return on investment of 17%, will be managed by Prospéritas Capital Partners, a firm made up of well-known Uruguayan businessmen with 120 years of relevant experience between them in different areas, including technology, industry, and finance.
It is expected that the UIVC will position itself as a leader and pioneer in the financing of S&MEs in high value-added sectors with an extensive potential for growth such as agribusinesses with a high technology content, digital and telecommunications businesses, and technology services businesses -e-learning, for example. The Fund will also provide the companies with know-how, management advice, and an extensive network of domestic and international contacts. This complete support package will be vital for the sustainable development of these companies.
Enrique García, CAF's Executive President, has highlighted the importance of this agreement as the first operation that the Corporation has entered into with Uruguay's private sector, and ratified his support for the initiative undertaken by Prospéritas Capital Partners and IDB-MIF to cater to Uruguayan S&MEs, as it is an opportunity to promote the sustainable development and technological innovation of a country that, since 2003, has successfully returned to the path leading to economic growth, driven by a new, booming pro-export economy in the IT sector.
Don Terry, the Manager of the Multilateral Investment Fund (MIF), expressed his enthusiasm at the prospect of the fund –the first venture capital fund for Uruguay- starting operations shortly. "The MIF has extensive experience in industry, having supported more than 35 venture capital funds in Latin America and the Caribbean. This fund has very important synergies with others in the region and also with the objectives of the IDB/MIF of helping to reduce the gap for growing small and medium-size enterprises in Uruguay, which at the moment do not have access to long-term financing, and of helping to improve the S&MEs' operating standards," explained Don Terry. The MIT expects that this fund will increase competitiveness and innovation among technology-based S&MEs and generate jobs, while offering incentives for developing the venture capital industry in Uruguay by offering examples of how the financing of emerging companies through venture capital produces an impact on the growth and organization of these companies.
In addition, Enrique García underlined that the presence of Uruguay in CAF strengthens the coordinating role that this multilateral financial agency has been playing, with success, between the two South American sub-regional blocs, the Andean Community and MERCOSUR.
As mentioned earlier, the target companies of the UIVC are Uruguayan S&MEs that use technology as a key differentiator. Typical examples are private software companies that sell instant message solutions worldwide and that are, besides adapting their platform to cater to the corporate cellular phone instant messaging sector under an appropriate scheme of costs. Then there are medical diagnosis and treatment service providers that use state-of-the-art technology to monitor their patients' evolution.
The Uruguayan technology sector has been developing steadily over the past 20 years and its rate of growth is the highest in the Uruguayan economy, exporting 33% of its production to 55 countries. What is more, there are 500 companies in the sector, of which 150 are engaged in developing software. At the moment, the Eastern Republic of Uruguay ranks second in PC and Internet access penetration in Latin America.