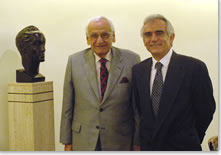 Venezuela: CAF and the Embassy of Colombia sign bi-national border project agreement
August 12, 2005
With this new technical cooperation initiative, CAF ratifies its support for the consolidation of bi-national and regional integration and the improvement of the quality of life for border communities.
Luis Enrique Berrizbeitia, Executive Vice-president of the Corporación Andina de Fomento (CAF), and Enrique Vargas Ramírez, Ambassador of the Republic of Colombia to the Bolivarian Republic of Venezuela, today signed a technical cooperation agreement amounting to US$ 38,000 for the Republic of Colombia in support of the Evaluation and Presentation of Bi-national Border Projects. The signing took place in CAF's headquarters in Caracas.
Berrizbeitia mentioned that, since 2002, CAF has been supporting the Embassy of Colombia in the Evaluation and Presentation of Bi-national Border Projects, and that with this latest approval, the multilateral agency is contributing to the efforts being made by the governments of Colombia and Venezuela to consolidate bi-national and regional integration by strengthening the economic, social, and integration relations between the two governments and also to the implementation of joint projects aimed at improving the quality of life of border populations.
He also stressed the importance of this agreement as a contribution by CAF to the initiative that both governments have been undertaking to fight hunger and social exclusion through educational, cultural and family projects, among them the building of Bi-national Public Libraries, the founding of the Bi-national Youth Symphony Orchestra, and the Family Educational All-round Farm (GIEF).
The Embassy of Colombia, together with bi-national work groups made up of local and regional authorities and representatives from the academic sector and the communities, has proposed projects that are, among other things, bi-national in nature, are aimed at strengthening the capacities of vulnerable populations in both countries, involve the support of the private sector, and generate considerable social impact. It also seeks to draw up recommendations regarding two items on the bi-national agenda: Bi-national Border Attention Centers (CEBAF) and Border Integration Zones.
In addition, it will seek to propose to the private sector an operating plan that defines the strategies for making viable the regulations governing the transportation of coal by road as well as the planning of additional projects in the areas of sports and education.