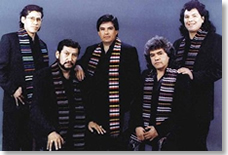 Venezuela: The Embassy of Bolivia and the CAF are offering a concert by Savia Andina
August 05, 2005
Today at 6:30 p.m., the prestigious folk group Savia Andina will offer a concert in the Antonio José de Sucre Auditorium at CAF's headquarters in Caracas.
As part of the 180th anniversary of the founding of Bolivia and the Corporación Andina de Fomento's (CAF) 35th anniversary, the Embassy of the Republic of Bolivia and the CAF have joined forces to put on two concerts with the group Savia Andina. The first will be given at 7 p.m. on August 4 in the Celarg and the second at 6:30 p.m. on August 5 in the Antonio José de Sucre Auditorium at CAF's headquarters.
These events are part of the efforts to promote Bolivia's cultural values being channeled through the Cultural Attaché's Office at the Bolivian Embassy, and also respond to yet another of the many programs organized by the CAF's Cultural and Community Development Department aimed at contributing to the all-round education and development of the individual through music while at the same time extolling and supporting national and regional talent.
This concert is a perfect mechanism for offering the public a select repertoire of Andean melodies that will give them an excellent idea of Bolivian folklore. All the melodies will be interpreted in masterly fashion by this quintet made up of eminent folklorists, who interpret many of their own compositions at the concerts they give, displaying their professionalism and virtuosity.
Savia Andina, with their leader Oscar Castro (percussion), Gerardo Arias (first vocalist, second guitar), Rafael Arias (first guitar, chorus), Donato Espinoza (charango, chorus), and Edwin Herrera (reed flutes, chorus), is celebrating its 30th anniversary this year. Since 1975, these musicians have built up an interesting artistic career that has allowed them to travel the length and breadth of their country and also provided them with an opportunity to show Bolivia's rich musical heritage to the rest of the world.
As Enrique García, CAF's executive president, pointed out, "culture as a creative expression of peoples is part of the Corporación Andina de Fomento's mission, which reasserts its commitment to sustainable development and integration."
Over these past thirty years, not only has Savia Andina become one of the best examples of Bolivian folklore at its most authentic, but these musicians have also become exponents of the most refined style, resorting to acoustic instruments only, so making them an even purer example of the vernacular genre.
Bolivia's pride and joy
Savia Andina has produced more than a hundred recordings, on LPs, CDs, cassettes, and DVDs, most of them in Bolivia, although it has also recorded in countries such as Argentina, Brazil, Ecuador, Japan, Mexico, Spain, and the United States. They have given concerts and taken part in festivals in Chile, France, Paraguay, Portugal, Peru and Russia. In addition, they have performed alongside well-known artists of the stature of Ángela Carrasco, Chayanne, Gipsy, Julio Iglesias, and Miguel Bosé, to name but a few.
The group has been given awards by a number of international and Bolivian institutions, among them the Organization of American States (OAS), which named them Cultural Ambassadors, international folklore institutions, Latin American press agencies, local authorities inside Bolivia, civilian institutions, and other bodies representing a society that recognizes the work they have done in favor of culture and folklore over the years in their unceasing efforts to promote Bolivian music.
Savia Andina visited Venezuela many years ago and now they have returned to celebrate their 30th anniversary in Caracas.