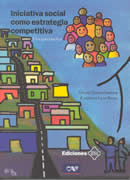 CAF and IESA present book on good practices in corporate social initiatives
September 24, 2005
The book Social initiative as competitive strategy: a practical guide was presented on September 8 in the headquarters of the Andean Development Corporation (CAF). The authors of the work, which was financed by CAF, are IESA Emeritus Professor Henry Gómez Samper and Carolina Luis-Bassa, researcher at the Institute.
La Corporación Andina de Fomento (CAF), in alliance with the Institute of Advanced Administrative Studies (IESA), presented the latest publication of Ediciones IESA, Social initiative as competitive strategy: a practical guide, on September 8 in the CAF Antonio José de Sucre Auditorium. The book provides tools for the companies in the region which wish to undertake social initiatives and convert them into competitive advantages.
As part of its Competitiveness Support Program (PAC) and as member of the Consultative Council of the Social Enterprise Knowledge Network SEKN-IESA, CAF has financed the preparation of this guide on good social responsibility practices, with the idea of addressing the need to generate local knowledge on the subject and to create incentives for new companies to get involved in the crusade. As CAF President & CEO Enrique Garcia said, "we hope that the lessons collected here will contribute to the competitive strengthening of companies and to faster solutions for the problems that afflict our societies."
The authors of Social initiative as competitive strategy: a practical guide are IESA Emeritus Professor Henry Gómez Samper and Carolina Luis-Bassa, a researcher at the institute. The book's objective is to detect, through case studies of companies with a high performance in social enterprises, the organizational factors that make it possible to capitalize this advantage and effectively improve a company's competitive position, which contributes to improving education, health, culture and other social activities, as well as providing benefits for the business itself.
IESA is a member of the SEKN network in which 11 management schools from Ibero-America coordinated by the Harvard Business School analyze how companies and civil society organizations undertake social initiatives. The publication shows that companies can achieve a transformation in society by means of apparently small but well conceived social actions.
The book also explains how corporate social action can generate competitive advantages by giving answers to the following questions: Should companies undertake a social initiative by themselves or through agreements with other companies or a social institution? How can companies channel a social initiative? How can companies ensure that their effort generates social value and economic benefit at the same time? The analysis is not limited to the entrepreneurial part but also contains reflections on management in institutions with a social mission.
The publication is the result of a project financed by CAF, Banesco and IESA. The book was presented by CAF Vice President & Deputy CEO Luis Enrique Berrizbeitia, and Professor Rosa Amelia González de Pacheco, coordinator of the IESA Public Policy Center.