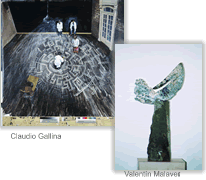 CAF and the Argentine Embassy present the exhibition Two latitudes, same meridian
September 20, 2005
The exhibition Two latitudes, same meridian will open in the CAF Gallery at 7pm on September 29. The show offers the works of the painter Claudio Gallina and the sculptor Valentín Malaver.
As part of the celebrations of its 35th anniversary, the Andean Development Corporation (CAF) and the Embassy of the Republic of Argentina in Venezuela have joined efforts to present the exhibition Two latitudes, same meridian at the CAF Gallery, which shows the work of two young Latin American plastic artists: the Argentine painter Claudio Gallina and the Venezuelan sculptor Valentín Malaver.
This event is one of the many offerings organized by the CAF Cultural and Community Department, with a view to contributing to the development and integrated education of human beings through culture and artistic expression, as well as promoting and supporting local and Latin American talent.
CAF President & CEO Enrique Garcia commented that culture as a creative expression of peoples was part of CAF's mission which reaffirmed its commitment to sustainable development and integration. We hope that this exhibition contributes to a reflection on the role of art in integration. Despite the great geographical distance, two artists are overcoming limits and bringing together two countries, recognizing themselves as part of the same Latin American reality.
Two latitudes, same meridian shows Argentina and Venezuela as opposite limits of an immense geographical mass, embracing in an art exhibition, where the creators Claudio Gallina and Valentín Malaver, neighbors from distant latitudes, make their lives emerge from canvas and from stone, describing two plastic languages that interact harmoniously in this single scene.
Gallina offers his imaginary spaces as territories where characters from our interior world move. Malaver strips the stone, feel its pulse and sculpts the material as if removing layers of his own skin, discovering the contents of the soul in its interior. The two artists complement each other in the same space, sharing signs of life, exchanging attitudes and reflecting the emotions of being human.
About Claudio Gallina
Born in Buenos Aires, Argentina in 1964, Claudio graduated from the Prilidiano Pueyrredón National School of Fine Arts. He studied set design with Professor Lerchundi. He was set and costume designer at Colón Theater. He attended the workshops of Osvaldo Attila, Cristina Santander and Armando Sapia, among others, and designed sets for television and theater. Between 1989 and 1999 he participated in shows and biennales in Argentina and, in the late 1990s, he began his international career.
Since 2000 he has participated without interruption in the most important international art fairs in the United States and Latin America as well as individual exhibitions, awakening a massive interest among very varied publics. The thematic content that he develops in his paintings has attracted the attention of public institutions related to culture and education. He now resides in Buenos Aires.
About Valentín Malaver
Born in Guarame, Nueva Esparta state, in 1968. From 1985 to 1989 he studied pure art in the Pedro Ángel González School of Plastic Arts, in La Asunción, the state capital. From 1991 to 1996 he worked with the sculptor Pedro Barreto in his workshop in Lecherías, Anzoátegui state.
In 1987 he began to exhibit in collective shows in Venezuela, United States and Cuba. Three years later he started his individual exhibitions in galleries and museums in Venezuela. From 1987 to 2004 he actively participated in shows and biennials in Venezuela where he received many prizes, distinctions and excellent criticism. He is currently professor of sculpture at the Armando Reverón School of Plastic Arts in Barcelona, Venezuela. He lives and works between Barcelona and Guarame.