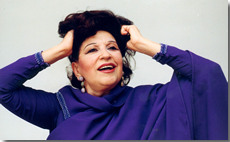 CAF and the Uruguayan Embassy celebrate to the rhythm of the tango
September 06, 2005
Uruguayan actress Dahd Sfeir will present the musical Tango a Tango in the Antonio José de Sucre auditorium in the CAF headquarters in Caracas on August 26 at 7pm.
As part of the celebrations of the 35th anniversary of the Andean Development Corporation (CAF) and the commemoration of 180 years of the independence of Uruguay, CAF and the Uruguayan Embassy will jointly present on August 26, the musical Tango a Tango performed by Dahd Sfeir, the Uruguayan actress of Lebanese descent, in the Antonio José de Sucre auditorium in the CAF headquarters.
This show is the perfect way to offer the public a glimpse of the world of the tango in its varied poetic forms, avoiding its most frequent expressions, mixing recitation with song, with pure narration and music from a trio of bandoneon, guitar and double base. This repertoire is superbly performed by this talented artist whose international performances have given audiences in many parts of the world the best of this universal theater.
This event is one of the many offerings organized by the CAF Cultural and Community Development Department, as a contribution to the development and integrated formation of human beings through music, art and culture, and the promotion of national and Latin American talent.
The program covers an interesting selection of poems and songs which evoke the purest essence of the tango, emphasizing the verbal magic, in a very broad register that ranges from lunfardo (Buenos Aires slang) to the refined Spanish of prestigious authors such as Borges, Onetti, Carlos María Gutiérrez or Idea Vilariño.
More about Dahd Sfeir
Dahd Sfeir was born in Montevideo, Uruguay, of Lebanese descent. Over the years she has been one of the greatest actresses of River Plate theater. She made her debut in this genre as an adolescent in the Theater Club after a brief period in the Municipal School of Dramatic Art. From 1953 to 1963 she worked in the Montevideo Theater Club. During these years she received the Casa del Teatro prizes from Uruguay and her first Florencio del Círculo from the crítics.
In 1961, for her performance in Bernard Shaw's Saint Joan in Buenos Aires, she received the Taira prize for the best foreign actor in Spanish. In the Montevideo theater, she later received two more Florencio prizes for her acting in "Who's afraid of Virginia Woolf?" by Edward Albee, and "La Dorotea" by Lope de Vega.
Her brilliant career continued in tours through Europe and Latin America. After moving to Sweden, she founded the Sandino Latin American Theater, and later in Spain, her acting in "Medea" by José Bergamín in the María Guerrero Theater of Madrid was considered outstanding.
She has received other awards from the Uruguayan Critics Association, the special Jury of Sábado Shaw in Uruguay, the Venezuelan Critics Association, Critics of the United States and Las Palmas, Canary Islands, among others.