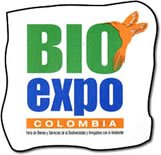 Bioexpo Colombia 2005 opens in Medellin
October 20, 2005
The Bioexpo Colombia national fair is a key instrument for strengthening ecological and environmentally friendly products and penetrating national and international markets
To support the holding of Bioexport Colombia 2005 "Biodiversity and environmentally friendly products fair" as a strategy to strengthen supply and stimulate demand for products in green markets in Colombia, the Andean Development Corporation (CAF) approved a non-reimbursable technical cooperation agreement with the ministry of Environment, Housing and Territorial Development.
CAF President & CEO Enrique García emphasized the importance of the agreement as a contribution by the multilateral institution to Colombian efforts to achieve the economic and social reactivation objectives set out in the National Development Plan 2002-2006 "Toward a Community State." In its model of economic development, the plan includes sustainable utilization of biodiversity resources, production of less polluting goods and services, and exploitation of waste from conventional productive activities.
With this contribution, CAF reinforces its catalytic role in the area of environmental services and promotion of green markets which it has been strengthening for the last three years through its Bio-CAF program, confirming its commitment to sustainability, competitiveness and regional integration, and generating employment through promotion of viable proposals in the framework of sustainable biotrade.
The holding of Bioexpo Colombia 2005 "Biodiversity and environmentally friendly products fair" is expected to contribute significantly to the promotion and publicizing of ecological and environmentally friendly products around the nation, becoming a fundamental instrument for the strengthening and penetration of these products on domestic and international markets.
The first Bioexpo Colombia 2003 was held in the city of Armenia in June 2003. This initial experience showed that these spaces for publicizing, disseminating and marketing are fundamental for implementing institutional support strategies aimed at stimulating initiatives and companies in green markets. Bioexpo Colombia 2005 will be much more market oriented, becoming the most important national showcase for biodiversity goods and services and environmentally friendly products.
Bioexpo Colombia 2005 features stands with commercial samples from the business and community initiatives with most potential in the country; business rounds with investors and national and international buyers; offers of business, financial, incubation and commercial services; and promotional activities such as parades, competitions and educational events.