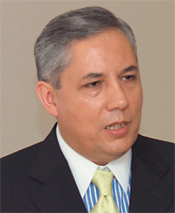 Credit Where Credit Is Due
October 05, 2005
CAF stands to wow investors with improving financial results, its first Samurai bond issue in four years.
The Andean Development Corpo. (CAF) is an anomaly. It is an investment-grade rated public-sector development bank whose principal owners are some of the most unstable countries in Latin America. CAF is controlled by the governments of Bolivia, Colombia, Ecuador, Peru and Venezuela. And yet CAF has won a reputation for strong management and innovation.
CAF underscored its status as Latin America's highest-rated issuer in June, when it became the first Latin American issuer to sell bonds in Japan since Argentina's economic crisis in 2001. The issue was a three- and seven-year, two-tranche bond for ¥20 billion ($180 million) priced to yield 0.58% and 1.31% respectively. "We hope that this will open the way for other issuers in the region," Hugo Sarmiento, CAF's chief financial officer, said at a LatinFinance Round Table discussion in New York in July.
CAF has always impressed the markets with its sound finances and prudent management. Its earnings are on target to improve on last year's record results, when it posted $208 million in net income. CAF may be a public-sector institution, but it approaches cost management with impressive zeal. Last year, it created a comptroller's office. It has implemented a new cost control system. "Even though our administrative costs vis-à-vis portfolio and total assets is among the lowest of the multilaterals, we still want to instill that cost-conscious culture," Sarmiento said.
Enter the Italians
Moody's upgraded CAF to A1 from A2 in June, further solidifying its investment-grade rating. Its effectiveness as a multilateral is winning further recognition. Italy is interested in joining Spain as a shareholder country, Sarmiento said.
CAF has expanded its shareholder base in recent years to include 12 non-Andean countries and 16 private banks that together now provide 10% of its paid-in capital. Argentina, Brazil and Mexico are among those 12 members. The five Andean founding countries provide 90% of CAF's paid-in capital.
New shareholder countries praise the bank's history of stellar financial management. At the end of June this year, net income had already reached $149 million, and CAF should close 2005 with $270 million in profits, Sarmiento said. He also expects CAF's loans to grow between 8% and 10% this year, with loan disbursements topping $3.5 billion. Last year CAF approved $3.3 billion in loans. At the end of June 2005, CAF had a debt-to-equity ratio of 1.9:1. Capitalization was a thumping 38.7% of assets, above its already high minimum requirement of 30%. Capitalization should decline to 30% as disbursements pick up during the second half of the year, Sarmiento said.
CAF's primary mission, though, is to deploy capital to its shareholder countries. CAF is the leading source of financing for the public sector in the Andean region. It provided 55% of multilateral financing to the region in 2004. Projects included $77 million for the Olmos irrigation project in Peru and $300 million for the Tocoma hydroelectric project in Venezuela. Infrastructure projects account for about 50% of loans this year. "Infrastructure or plant expansions that are export-oriented are attractive because they generate employment," Sarmiento said.
CAF also issues debt in the local markets to provide local institutional investors with alternatives to sovereign paper. In July, CAF issued its second 'Condor' bond, a $150 million four-year dollar bond sold to Andean institutional investors. Spain's BBVA launched the issue at $100 million and received $200 million in orders – further evidence that the development bank has impressed investors at home as well.
Credit enhancements and partial guarantees are important tools in CAF's mission to develop the region's local capital markets and CAF wants to use these techniques to support the private sector. CAF typically uses guarantees for infrastructure projects, but Sarmiento said it will also deploy this financing tool to lend to the private sector, which currently accounts for just 8.4% of CAF's total lending. Understanding and meeting the growing needs of the region's corporates will be CAF's next great challenge.
Maria O'Brien (LatinFinance - September 2005 issue)