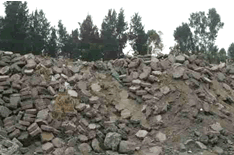 First Workshop on Sanitary Landfills and CDM held in Caracas
The Vice Presidency of Development Strategies, through DMA /PLAC, organized a working lunch with leading representatives of the public and private sectors on final disposal of solid waste, and existing opportunities for development of urban solid waste management projects through the sale of Certified Reduction Units for greenhouse gases (GHG), as stipulated in the Clean Development Mechanism (CDM). The encounter was an opportunity for important actors in the sector to meet and discuss Venezuela's current status in the carbon market.
The lunch was attended by the minister of Environment and Natural Resources, Jacqueline Faría Pineda; CAF vice president of Environmental Development (DMA), Claudia Martínez; executives from the CAF Latin American Carbon Program; and 23 representatives from various organizations related to the final disposal of solid waste.