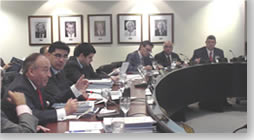 Funds approved for Minera San Cristóbal, Bolivia
October 25, 2005
CAF approves cooperation for US$50 million for production of Minera San Cristóbal in the Bolivian department of Potosí
The Andean Development Corporation (CAF) today approved US$50 million to finance the San Cristóbal project whose objective is the production and export of silver, zinc and lead concentrates. San Cristóbal is one of the world's largest and least costly mining projects. The project will be executed by Minera San Cristóbal S.A., Bolivian subsidiary of the US Apex Silver Mines Ltd.
For CAF this type of project is a means of attracting foreign investment, generating employment and creating social programs for the benefit of the communities of the south of Bolivia.
The project consists of an open-cast mine with proven and probable reserves of 229 million tons of mineral, containing 450 million ounces of silver, 3.6 tons of zinc and 1.35 million tons of lead. The project will have the capacity to process 40,000 tons a day of mineral. Production and processing operations are planned to start in April 2007.
The San Cristóbal mine will have a total estimated cost of US$681 million. The financial plan consists of a long-term loan facility comprising a US$50-million CAF loan and a syndicated loan for US$175 million, while the remaining US$456 million will come from capital contributions.
The wealth of Potosí
The San Cristóbal project is located in Potosí department in the south of Bolivia, approximately 500 kilometers from La Paz.
Historical documents show that the wealth of Potosí dates from the colonial era, presenting San Cristóbal, capital of Lípez province, as a mining camp which has been important for its mineral wealth since its founding.
The project's environmental and social viability is guaranteed by compliance with CAF environmental standards and the "Principles of Ecuador," including the implementation of a management plan to control environmental and social impact, among other requirements. In addition Minera San Cristóbal has adopted a social strategy with local participation to develop social projects for the benefit of the communities.