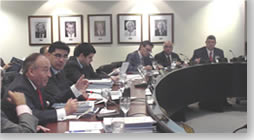 US$1,010 million for operations in Bolivia, Brazil, Colombia and Ecuador
October 24, 2005
The Andean Development Corporation (CAF) today approved operations for US$1,010 million to benefit Bolivia, Brazil, Colombia and Ecuador, and strengthen the banking system in the region
US$50 million to finance project for silver, zinc and lead production in the San Cristóbal Mine, Bolivia
US$100 million to partially finance the Investment Plan of Brazilian utility Centrais Elétricas Brasileiras.
Operations in favor of the Republic of Colombia: US$300 million to support strengthening of the Constitutional Pension Reform and US$150 million for partial credit guarantee
US$100 million to finance the PRAISE program in Ecuador
US$ 310 million approved in favor of regional banking system
The Andean Development Corporation (CAF) today approved operations for US$1,010 million to benefit Bolivia, Brazil, Colombia and Ecuador, and strengthen the banking system in the region.
CAF President & CEO Enrique García said, "CAF continues its conceptual and financial support for a renewed development agenda for the region, by stimulating initiatives for the integrated promotion of stability, efficiency and social equity."
For Bolivia, US$50 million was approved to finance the project for silver, zinc and lead production in the San Cristóbal Mine, which is considered one of the largest silver mines in the world. The executing company is Minera San Cristóbal, a subsidiary of the US Apex Silver Mines. This project consists of an open-cast mine with proven and probable reserves of 229 million tons of mineral containing 450 million ounces of silver, 3.6 million tons of zinc and 1.35 million tons of lead.
For Brazil, US$100 million was approved to partially finance the investment plan of the utility Centrais Elétricas Brasileiras (Eletrobrás) for generation and transmission assets, as well as general corporate purposes. The CAF financing is structured as an A/B loan.
As the third beneficiary country, Colombia received US$300 million to support the Constitutional Pension Reform, whose executing body is the Ministry of Finance and Public Credit. With the execution of this program, Colombia will continue with the agenda of actions to guarantee regularization of the fiscal impact derived from public-sector pension obligations by means of a satisfactory transition between the social security regimes and the pension revision recognized in the public sector prior to the entry into force of Law 100 of 1993. A revolving partial credit guarantee for US$150 million was also approved to support the country's access to syndicated loans from international commercial banks.
For Ecuador CAF approved a financial support facility in favor of the Social Investment Assurance Program (PRAISE) for US$100 million, which will form part of the national strategy for improving the quality of life of Ecuadorians in the framework of the Millennium Development Goals. The program favors compliance with the budgetary appropriation and quality of social spending in the areas mentioned by means of optimizing the execution of priority social programs, which will generate significant positive social and environmental impact in the country.
Finally, an expansion of US$310 million was approved for the line of credit for banks with a solid and proven relation with the Corporation. The new credit facility will help these first class banks of great importance in their countries to adapt to current market needs.