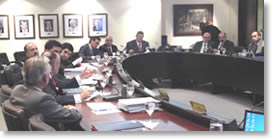 US$300 million loan approved for Republic of Colombia
October 25, 2005
With this new loan, CAF confirms its support for Colombia's efforts to strengthen the Constitutional Pension Reform
The Andean Development Corporation (CAF) approved a US$300-million loan with a term of 12 years and a two-year grace period to finance support under the program to strengthen the constitutional pension reform in Colombia. The executing body is the Ministry of Finance and Public Credit.
CAF President & CEO Enrique García said the operation expressed the financial institution's commitment to continue promoting a renewed development model that strengthened a pattern of sustained economic growth in the region. With this loan, CAF confirms its support for the efforts of the Colombian government in favor of fiscal sustainability and optimization of the principles of equity and confidence in the pension system, introduced by the recently passed law.
García also referred to the positive impact of the execution of this program which permits Colombia to continue executing the agenda of actions aimed at guaranteeing the regularization of the fiscal impact caused by the public-sector pension obligations. The agenda is designed to make a satisfactory transition between the social security regimes and the pension revision recognized in the public sector prior to the entry into force of Law 100 of 1993.
The pension system has been a priority issue on the public agenda since the early 1990s, when the initial steps for reform were taken. In December 1993, with the passage of Law 100, the pension system was changed from a pay-as-you-go regime to a funded system. These and other developments have made the pension issue one of the main concerns of economic policy.