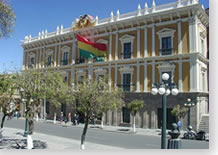 CAF president signs technical cooperation agreements for US$631,000
November 28, 2005
Non-reimbursable funds to finance 14 projects in Bolivia
In the presence of Bolivian President Eduardo Rodriguez, the president & CEO of the Andean Development Corporation (CAF), Enrique Garcia, today signed in the Palace of Government 14 non-reimbursable technical cooperation agreements for a total of US$631,884, destined to support institutions, the democratic transition and specialized consulting.
These operations, whose funds come from non-reimbursable sources, are the result of the technical meetings held by the CAF president and his team of collaborators with the ministers of the economic area, the Presidency, Foreign Affairs, and Popular Participation of the Bolivian government, last July in the city of La Paz.
The technical cooperation funds will be used to finance specific projects prepared by the beneficiaries in coordination with CAF. Five will support the institutional strengthening of the Sectoral Regulation System (SIRESE); four, municipal decentralization and institutional strengthening; another four, the contracting of specialized consulting services; and one will contribute to improving the investment climate in the country.
Aware of the structural reforms being executed in Latin America, especially in Bolivia, CAF is promoting the development of government institutions capable of responding efficiently to the demands and requirements of the population, which facilitate relations and interactions among the actors, through definition of transparent rules and procedures.
The CAF chief executive said that five regulatory agencies would benefit from the support projects. The Hydrocarbons Superintendency will receive cooperation to prepare, revise and harmonize regulations for the new Hydrocarbon Law; and the Transport agency will be helped with the preparation of technical standards for the railway, airport and urban public transport sectors.
The Basic Sanitation Superintendency will receive support to prepare the regulations for technical and accounting audits and implement the process of minimum quality controls for potable water. The telecommunications body will execute the study project on the regulatory treatment of voice transmission services via internet; and the Electricity Superintendency will prepare the regulations for load dispatch for the operation of isolated systems.
The CAF technical cooperation will also be used to strengthen various ministries. Finance will prepare a strategy of fiscal decentralization, while the Popular Participation ministry will create instruments to update the municipal land registry with a view to increasing tax receipts.
To improve the investment climate, the Ministry of Economic Development - with CAF funds - will conduct specific studies, and organize dialogue and consultation workshops, information and communication campaigns on the Free Trade Agreement, as well as executing the Bolivia Solidarity and Productive project. The Ministry of the Presidency will be responsible for the institutional strengthening project.
Lastly, the ministries of Hydrocarbons, Services and Public Works, and Foreign Affairs and Religion, thanks to the cooperation agreements, will contract specialized consulting in negotiation strategies, road transport, energy integration, and planning and execution of policies in the international field.