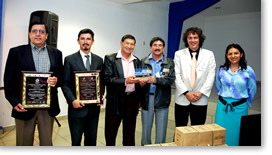 Ecuador: Carrocerías IMCE wins prize for Best Improvement
November 01, 2005
The prizes were presented on October 28 in the Los Caras Room of the Quito Exhibitions Center in a ceremony attended by the 19 companies that took part in the workshop, which was advised by Colombian expert Jaime Arboleda
Carrocerías IMCE of the city of Ambato won first prize for "Best Improvement," a competition organized by Fundepin, with CAF support, in which 19 companies participated from Quito, Cuenca and Ambato.
Second place went to DW DECORACIONES and third place to MUEBLES LEGEND.
The prizes were presented on October 28 in the Los Caras Room of the Quito Exhibitions Center in a ceremony attended by the 19 companies that took part in the workshop, which was advised by Colombian expert Jaime Arboleda.
Each group of participating companies showed the improvements they had implemented during the workshop, and a qualified jury selected the winning companies. The selection was based on the following criteria:
Low cost
Greater impact
More creative
Simpler
Greater worker participation.
Aware of the need to support private initiatives aimed at strengthening the SME productive sector, the CAF Competitiveness Support Program (PAC) is contributing, through non-reimbursable technical cooperation, to the development of two projects to strengthen the capacities of companies in the wood furniture and metalworking-chassis sectors, by implementing management technologies and setting up associative schemes.
With this action, CAF is strengthening the capacities of the productive sector through the adoption of management technologies designed to improve productivity in the plant, and product marketing schemes. These actions favor the linkage of the private-public-academic sectors through training and accompaniment in the implementation of management technologies and marketing models, as well as supporting the national government's efforts in the task of strengthening the productive and export capacity of SMEs.
One of the most common obstacles that the SMEs face is directly related to working conditions. To address this problem, the Antioquia Science and Technology Center-Colombia (CDA) used a business training methodology known as "Higher Productivity and A Better Place To Work" offered by the International Labor Organization (ILO).
This methodology was initiated in the workshop that concluded with the award of the prizes for the "Best Improvement."