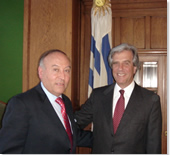 CAF president confirms support for infrastructure projects in Uruguay
December 15, 2005
On an official visit to Montevideo, Enrique García confirmed CAF's commitment to Uruguay for the physical and financial execution of major integration infrastructure projects.
The CAF president & CEO held meetings with the president of the Republic and high-level national authorities
After attending the MERCOSUR Summit in the city of Montevideo, the President & CEO of the Andean Development Corporation (CAF), Enrique García, made an official visit to the Republic of Uruguay. The occasion was propitious for a series of activities, including meetings with national authorities.
To strengthen and expand the links between CAF and Uruguay, as well as facilitating the continuity of the support that the multilateral organization has been giving to the country for the physical and financial execution of major projects in the field of infrastructure integration, and stimulating the ongoing process of South American integration, García held meetings with President Tabaré Vázquez; Minister of Economy and Finance Danilo Astori; interim Minister of Foreign Affairs Belela Herrera; and Central Bank President Rubén Walter Cancela.
During these meetings, García officially informed the Uruguayan government of a new US$50-million loan approved by the CAF Board Meeting last December 6, together with US$20 million for the partial guarantee of a bond issue by the Uruguay Road Corporation and the National Corporation for Development. The funds of both operations will be used to partially finance the Road Infrastructure Program Phase II.
The CAF chief executive is also scheduled to visit the headquarters of the Latin American Integration Association (ALADI) in Montevideo on December 14. The main objective is to exchange information on the activities of the two organizations and agree on joint actions and projects for 2006. On the occasion of this visit, an extraordinary meeting of the ALADI Permanent Representatives Committee will be held to hear the latest actions that CAF is taking in favor of regional integration and cooperation with ALADI member countries.