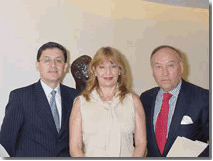 Ecuador granted credits for US$124 million
December 23, 2005
The credits are destined for the execution of the Social Investment Assurance Program and to finance the construction of road works in Guayas province.
The Andean Development Corporation (CAF) signed in Caracas two loans for Ecuador for a total of US$124 million. The first is for the Social Investment Assurance Program, and the second for road works on the Salinas-Guayaquil highway in the Guayas province.
Social Investment Assurance Program CAF signed a loan agreement with the Ministry of Economy and Finance for US$100 million for the Social Investment Assurance Program in Ecuador - PRAISE. The credit was signed in Caracas by Ecuadorian Economy and Finance Minister Magdalena Barreiro.
This Program is part of the national strategy to improve the quality of life of the most vulnerable sectors of the Ecuadorian population and achieve more effective social programs with wider coverage, improving the quality of expenditure and social equity. The objective is to give continuity to the actions of the Ecuadorian State under its commitment to protect social investment with respect to amounts and quality.
PRAISE is designed as an instrument for favoring the allocation of public funds to the social ministries, facilitating compliance with the targets and objectives of priority projects and programs in the areas of education, health, social welfare, work, urban development and environment.
Guayaquil-Salinas highway
The Andean Development Corporation signed a US$24-million credit for bridges, toll stations and road widening works along the Guayaquil-Salinas highway in Guayas province.
The project partially financed by the CAF loan covers the building of 18 bridges, two toll stations and supplementary works with a bypass and an interchange in the locality of Progreso where traffic divides to Playas and Posorja, as well as the final access to the Santa Elena peninsula. With these works, the highway will have four lanes over a length of 125 kilometers.
The project has a total cost of US$97.3 million, of which CAF is contributing US$24 million, the Ecuadorian government US$57 million, Corpecuador US$2.2 million, and the Guayas Provincial Council US$15 million. The total number of bridges on this route is 32, with 18 financed by CAF, seven by Corpecuador, and seven directly by the Guayas Provincial Corporation.