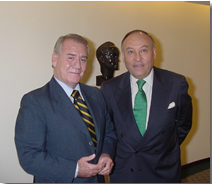 US$ 264 million for major road projects in Bolivia
December 21, 2005
US$180 million to finance the last part of the Santa Cruz-Puerto Suárez section
US$84 million for execution of the Third Transport Sector Support Program
The Andean Development Corporation (CAF) and the Government of Bolivia signed today two loan agreements for a total of US$264 million, destined to finance the completion of the Santa Cruz-Puerto Suárez road corridor, specifically the Roboré-El Carmen-Arroyo Concepción sections, and the Third Transport Sector Support Program (PAST III). The two agreements were signed in Caracas by CAF President & CEO Enrique García and Bolivian Ambassador René Recacochea.
The first agreement for US$100 million is for the construction of the last two sections of the Santa Cruz-Puerto Suárez integration corridor. The second agreement for US$84 million will partially finance the Third Transport Sector Support Program (PAST III), which includes the execution of eight road infrastructure projects and pre-investment studies.
During the ceremony, President García said the signing, "once again demonstrate CAF's permanent commitment to Bolivia and the Latin American integration process. The funds will be used to finance road projects that are part of the South American Regional Integration Initiative (IIRSA), and back the country's effort to stimulate national development." He emphasized the positive impact of the execution of these projects which will give Bolivia modern transport routes to strengthen internal integration and links with neighboring countries.
Garcia added that the stimulus of sustainable physical infrastructure in the region was a priority objective for CAF. It is a fundamental factor for the socioeconomic development of South America, which overcomes geographical barriers, forges closer links between markets, and promotes new economic opportunities in the region, essential aspects for strengthening the competitiveness and logistics of the productive sectors, resulting in significant advances in human development. The Corporation has approved a total of US$4.60 billion this year, of which over US$1.00 billion is related to the financing of South American integration.