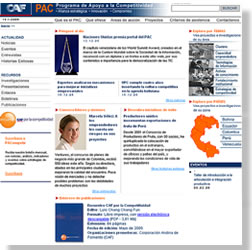 PAC - a portal of excellence
January 17, 2006
Last December PAC was awarded a prize in the e-Inclusion category in the national presentation of the World Summit Award
Last December 8, the awards were presented for the best Venezuelan websites in the national presentation of the World Summit Award, a United Nations world initiative, whose objective is to recognize efforts to close the digital gap.
The subportal of the CAF Competitiveness Program - PAC - nominated in the e-Inclusion category received one of the three prizes: Special Mention of Excellence. The main prize in this category went to "apalancar.com," the social responsibility initiative of Compañía de Telecomunicaciones de Venezuela (CANTV).
The World Summit Award Venezuela 2005 is held in the country by designation and approval of International Center for New Media (ICNM). The event is organized by an institutional group formed by the National Academy of Information Technology (ANTIC), Chamber of Telecommunications Service Companies (Casetel), Venezuelan Chamber of Electronic Commerce (Cavecom-e), Venezuelan Chamber of Information Technology Companies (Cavedatos), National Information Technologies Center (CNTI), Venezuelan Foundation for the Advancement of Science (Fundavac), World Future Society (SMFV), and UN Development Program (UNDP).
The 136 nominations initially identified by the member organizations of WSA Venezuela were analyzed by groups of qualified professionals in a series of stages from May through July 2005 to form the first lists of outstanding products in each category.
In the second stage, 65 solutions were selected for participating in the WSA Venezuela awards: eBusiness, e-Culture, e-Entertainment, e-Government, e-Health, e-Inclusion, e-Learning, e-Science.
From this list of 65 outstanding nominations, 21 solutions deserving special mentions received the WSA Venezuela 2005 diploma in each of the seven criteria used in the judging (three diplomas in each criterion), in accordance with the rules of the WSA organization with headquarters in Austria.
The top WSA Venezuela 2005 awards (trophies and diplomas) were presented to the eight best products, one in each category, along with prizes for two outstanding solutions in each category, that is, three trophies and their diplomas (a grand prize and two additional prizes) per category.
The total number of awards was 21 diplomas without trophy and 24 trophies with diploma.