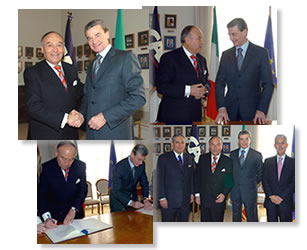 Cooperation agreement signed with Italy
February 03, 2006
CAF and the Italian Ministry of Foreign Affairs signed an agreement to create the Italian General Cooperation Fund. This is an important step for Italy's future participation in the capital of the development bank.
Enrique García, president & CEO of the Andean Development Corporation (CAF), and Giampaolo Betammio, under-secretary of Foreign Relations of the Italian Foreign Ministry, today signed in Rome an agreement to create a General Cooperation Fund (FGCI) to be financed by the Ministry. The purpose of the agreement is to provide technical and financial assistance to CAF for economic and social development projects.
"The agreement is part of the process of forging closer relations between CAF and Italy, as a vehicle to support Latin American development. It is an important step for Italy's future participation in CAF share capital," García said. "Agreements like this will improve the terms of our loans and increase financial flows into the projects and programs promoted by our institution."
Giampaolo Betammio said the agreement was significant "not only because of the importance that the Italian government gives to its presence in Latin America, but also as an innovative model of participation, with respect to combining promotion of Italian companies and international solidarity."
The programs promoted by FGCI are: i) Joint Financing Program (PFC) to finance development programs and projects in the CAF beneficiary countries; ii) Technical Cooperation Program (PCT) to support activities, sectors and countries eligible to receive CAF financing in areas where Italy can offer high-level professional and technical services; iii) Transfer Program for Outstanding Italian Experts (PEID): which offers qualified human resources for the development activities financed by CAF; and lastly iv) Additional Financing Programs (PAF) to finance projects of special interest for the Ministry, not defined in the preceding programs.
The agreement is the continuation of a Memorandum of Understanding signed by the Italian Foreign Ministry and CAF early last year.
Cooperation agreement between CAF and IILA
During the visit of CAF President García to Italy, a cooperation agreement was signed between the Corporation and Instituto Italo-Latinoamericano (IILA).
Enrique García and IILA Secretary General Paolo Faiola signed a cooperation agreement to examine the possibility of reciprocal cooperation on economic, social and environmental matters of common interest. "The idea is to join forces to promote specific programs, especially those that promote the participation of companies in globalization processes, as well as the reform and modernization of the State," the CAF president said.
The IILA is an international organization – formed by Italy and the 20 Latin American republics – whose purpose is to strengthen multilateral relations between member countries in the cultural, scientific, economic, technical and social fields.