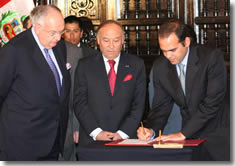 Peru receives US$260 million for North Amazon Multimodal Corridor and South Inter-Oceanic Highway
February 22, 2006
Peruvian President Alejandro Toledo and CAF President Enrique García were present at the signing of the line of credit and guarantee agreements for the North Amazon Corridor.
(Lima, February 22, 2006).- In a ceremony in the Tupac Amaru Room of the Palace of Government, representatives of the Andean Development Corporation (CAF), the concession holder IIRSA Norte and the Peruvian State signed the US$60-million guarantee agreement for the bridge line of credit for construction of the North Amazon Multimodal Corridor. President Alejandro Toledo of Peru and CAF President & CEO Enrique García acted as witnesses of honor of this transcendental event.
In the same act, President Toledo, in the presence of the CAF president, announced the executive authorization for the signing of the guarantee of the Republic for the financing of the US$200-million bridge line of credit to support the concessions for sections 2 and 3 of the Inter-Oceanic South Road Corridor.
García explained that the agreement was part of CAF's efforts to promote regional integration and develop competitiveness. "These financing operations are the result of extraordinary work by a team from the Republic of Peru, the private sector and CAF to open new forms of financing, execute and maintain the support infrastructure for the integration of the region, and for the economic and social development that the country requires. We are sure that this project will soon be a benchmark for future projects inside and outside Peru."
The Amazon North Multimodal Corridor will permit the flow of products and merchandise from the port of Paita, on the Peruvian north coast, across the Andean Cordillera, to the navigable rivers of the Amazon basin (including the port of Yurimagua on the Huallaga River). The project, which will benefit over eight million Peruvians in the departments of the north and northeast of the country, is part of a regional initiative to strengthen the integration of South American regional infrastructure. The concession for the corridor is for 25 years.
A total of five million Peruvians will benefit from the construction of the Inter-Oceanic Highway in ten regions: Madre de Dios, Puno, Cusco, Tacna, Moquegua, Arequipa, Ica, Ayacucho, Apurímac and Huancavelica. This represents 32% of national territory and 20% of the Peruvian population. The road, which is part of the South American Regional Integration Infrastructure (IIRSA), will contribute to the growth of the national economy, improve the trade balance with Brazil and Bolivia, and reactivate the agricultural markets of the entire south of the country.