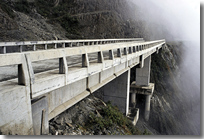 Creation of Fund for promotion of sustainable infrastructure projects
March 24, 2006
The PROINFRA Fund was set up with US$50 million to support countries with the design of investment projects, preparation of bidding conditions, financial structuring of operations, and during the subsequent negotiations.
(Caracas, March 24, 2006).- The Andean Development Corporation (CAF) created the Fund for Promotion of Sustainable Infrastructure Projects (PROINFRA) with US$50 million. The purpose of the Fund is to improve the quality of infrastructure projects, giving priority to regional integration projects or those that introduce innovative financing schemes. The Fund will be assigned activities from CAF and other sources.
CAF President & CEO Enrique García explained that PROINFRA was part of the actions being taken by the Corporation to support the IIRSA initiative. "In recent years CAF has approved US$3.00 billion to finance 40 physical integration projects, representing an investment of US$10 billion. Also in 2005, as part of the US$4.8 billion approved in this period, CAF destined US$1.00 billion to finance nine physical integration projects, mobilizing investments of around US$3.00 billion." In relation to PROINFRA, García explained that "the idea is to advise on project design, preparation of bidding conditions, the financial structuring of operations, and during the subsequent negotiations, in an effort to overcome the difficulties and weaknesses of the projects and processes, avoiding increased costs."
García said that the Fund would cover general sectoral, pre-feasibility, feasibility, environmental and social impact studies, as well as consulting on financial structuring, works concession and bidding processes, and the optimization of selection processes and prioritization of public investment projects, especially public-private associations.
The entities eligible for funds from PROINFRA are the official bodies responsible for project planning and design; government dependencies responsible for preparing documentation and organizing bidding processes; agencies responsible for the preparation and/or supervision of environmental and social studies; institutions specializing in leading concession processes or structuring project finance; and public or private entities that promote projects that meet the eligibility requirements for CAF projects.