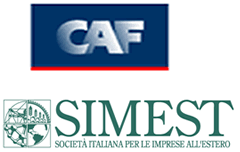 SIMEST and CAF sign US$20 million co-financing program
March 31, 2006
SIMEST will strengthen the Italian presence in the region by opening a more competitive line of financing for Italian companies through CAF.
(Special, March 30, 2006).- CAF President & CEO Enrique García and Massimo D'Aiuto, CEO of
Società Italiana per le Imprese all'Estero
, SIMEST, today signed in the city of Sao Paulo, Brazil a cooperation agreement to stimulate the development of medium-sized enterprises in the region through a co-financing program. Initially each organization will place up to US$10 million which could vary over time, in line with the results of the program.
García said that the signing was a continuation of the agreement of understanding that CAF signed with the Italian Foreign Ministry in March 2005, which was ratified last February in Rome by both organizations. "This CAF-SIMEST agreement is the first real opportunity to work jointly with Italy on development of the private sector in our 17 shareholder countries."
The signing of this agreement, Massimo D'Aiuto said, complements that signed yesterday with the Brazilian National Development Bank, BNDES, and strengthens the finance that SIMEST is offering directly to Italian investors. "The active cooperation between the two institutions will concentrate on the co-financing of Italian investments in Latin American and Central American countries. "We have developed an instrument that activates a medium-term facility which consists of stabilizing the funding of Italian investment projects with a very long maturity," D'Aiuto added.
Both CAF and SIMEST will benefit extensively from this agreement. For the Corporation, the work with the Italian agency is beneficial because it expands its financing capacity for medium-sized enterprises under mitigated risk schemes. Risk mitigation stems from the possibility of financing companies that already have a SIMEST equity interest. While for SIMEST the advantage is using the CAF infrastructure and network of contacts in the region to strengthen its role in developing Italian companies operating abroad.
The signing took place during the visit of an Italian business mission organized by Confindustria, ABI and ICE.
The Andean Development Corporation (CAF) is a multilateral financial institution whose mission is to promote the sustainable development of its shareholder countries and regional integration. Its current membership comprises 17 countries in Latin America, the Caribbean and Europe, namely: Argentina, Bolivia, Brazil, Costa Rica, Colombia, Chile, Dominican Republic, Ecuador, Jamaica, Mexico, Panama, Paraguay, Peru, Spain, Trinidad & Tobago, Uruguay and Venezuela, along with 16 private banks from the Andean region. With its headquarters in Caracas, Venezuela, CAF has representative offices in La Paz, Brasilia, Bogotá, Quito and Lima. For more information visit the CAF website www.caf.com.
SIMEST is a development finance institution dedicated to supporting and promoting the activities of Italian companies abroad. It was set up in 1991, and is controlled by the Ministry for Productive Activities. Its private-sector shareholders include major Italian banks and industrial companies. Its objectives are to promote Italian investment abroad and provide financial and technical assistance for projects. SIMEST promotes Italian investment outside the European Union, and administers various forms of public incentives. For companies, SIMEST is a one-stop-shop for assistance on every aspect of the development of business abroad.