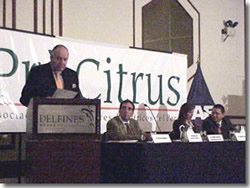 CAF presents study at international seminar
April 25, 2006
The studies financed by CAF and developed with PROCITRUS were aimed at generating information to help citrus exporters successfully access the US market.
During the event, speakers described the export opportunities for Peruvian citrus producers after the possible signing of the Peru-US FTA.
(Lima, April 25, 2006).- The international seminar "Exporting citrus fruit: looking to the future," organized by the Peruvians Citrus Producers Association, was held on April 25 and 26. The seminar offered producers, exporters, specialists and the general public the latest information on new varieties and markets, as well as the situation of the citrus industry in the leading competitor countries. The results of the studies developed with PROCITRUS and financed by the CAF were presented during the event.
The study program, which took place over six months, was divided into two parts. The first study evaluated the commercial opportunities for Peruvian fresh citrus fruit (mandarins, tangelos, oranges, lemons and grapefruit) in the United States. The second presented the requirements for improving sanitary and phytosanitary advice to assist Peruvian citrus fruit exporters enter the US market successfully.
The results of the study will benefit 103 Procitrus members representing 4,000 hectares planted in the North Coast (Piura, Lambayeque), the Selva Central (Junín), and the Central Coast (Lima and Ica departments) which is the most developed agricultural and commercial area of the country:
Peru's citrus exports currently generate over US$18 million in foreign exchange and provide permanent jobs for 4,500 workers and 10,000 additional workers including temporary and indirect employment. Access to the US market is expected to increase citrus exports by 60%.