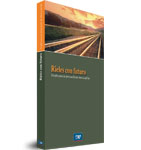 CAF receives National Book Prize
At the II Venezuelan National Book Prize presentation held on April 25, CAF received a prize for its publication "Rails with future. Challenges for the railways of South America."
The Ministry of Culture, through the National Book Center Autonomous Institute, held the award ceremony for the II Venezuelan National Book Prize 2004 on April 25. CAF received the prize in the Social Science category, Capitol District, for its publication "Rails with future, Challenges for the railways of South America,"
The event, which took place in the National Library, was attended on behalf of CAF by Jorge H. Kogan, author and coordinator of the publication and Francisco Wulff, opposite number in the project.
The Venezuelan National Book Prize is a public recognition of the actors and subjects that form the system of creation, production, marketing, distribution, promotion and readership of books that have made a significant contribution to the social and cultural development of the Venezuelan people. The winners are chosen by a jury formed by specialists in linguistics, design, publishing, graphic arts, marketing, promotion and dissemination of books and reading for each of the thematic areas of the prize.