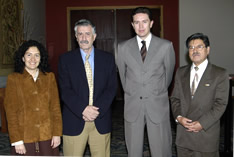 Ecuadorian Debt Conversion Program - Spain supports hydroelectric projects
Quito (April 18, 2006).- As part of the Foreign Debt Conversion Program between Ecuador and Spain, working meetings were held in Cuenca, Quito and Guayaquil on April 10, 12 and 17, respectively, to explain the operating scheme of the program for development of hydroelectric projects. Potential investors and/or energy consumers received information on the advantages of the development and support for low-cost electricity generation.
The Foreign Debt Conversion Program with Spain was signed in March 2005 with the objective of financing social investment projects for a total of US$50 million, 60% of which will be used to support hydroelectric projects. Management of the fund's resources will be in the hands of the Andean Development Corporation (CAF) which will receive and analyze the proposals.
The participants in this important initiative were hydroelectric projects of medium capacity (average 5 – 30 MW), which have pre-feasibility, feasibility and/or design studies. They had the opportunity to exchange opinions with the members of the Technical Committee, the Ecuadorian industrial sector, production chambers, among others, in order to have more alternatives for implementing clean generation projects.
The purpose of the Exchange Program is to create synergies between the initiative and private investment and the Fund contribution in favor of the less favored sectors. The projects will take the form of joint ventures (sectional governments and local and/or foreign investors), which must necessarily be economically and socially sustainable over time. As a result, majority participation by the private sector in this scheme is fundamental in order to avoid problems of efficiency in the operation and maintenance of the hydroelectric projects.
The return on the Fund's contribution will be a permanent source of revenue for financing the operation of the Social Investment Programs and/or supplement the Economic Development Agendas of the territories potentially favored with the debt exchange scheme.