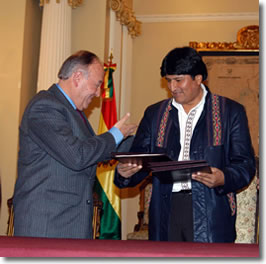 Morales and García sign two agreements to strengthen Bolivian integration in the region.
May 25, 2006
CAF will finance the paving of 71 kilometers of the highway that connects the localities of Huachacalla and Pisiga in Oruro department. In the political field, non-reimbursable cooperation funds for US$279,000 were granted for the II Meeting of Heads of State of the South American Community of Nations to be held in Bolivia as host country of the Andean Community.
The Andean Development Corporation confirmed its support for Bolivia by signing two agreements with the administration of Evo Morales. In a ceremony this morning in the Palace of Government, CAF President & CEO Enrique García confirmed its commitment to Bolivian, regional and South American integration.
In this context, CAF will grant non-reimbursable cooperation for the II Meeting of Heads of State of the South American Community of Nations" to be held in the country next October. The total amount is US$279,000.
The second agreement guarantees the paving of a 71-kilometer section of highway between Huachacalla and Pisiga which, in García's opinion, is important for Bolivia and for regional integration. "The approval of this loan is very satisfactory for CAF because it shows our strong commitment to the country," the CAF president said.
García explained that the paving of this 71-kilometer section would cut the travel times and road accidents in the area and improve the connection between Oruro, Bolivia's fourth most populous city, and Iquique, Chile's largest port.
The CAF chief executive also announced that the CAF board would approve a loan for the construction of the Riberalta- Guayaramerín Highway as part of the IIRSA program.