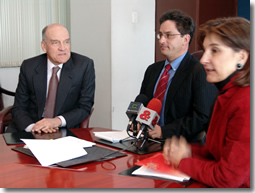 New impetus for strengthening technical and technological education
May 17, 2006
With funds from CAF, the OPEC Fund, and its own funds the Colombian government guarantees more and better education for young people.
The strengthening project will generate 30,000 new places in higher technical and technological education.
A sum of US$35 million will be invested to strengthen technical and technological education in Colombia thanks to the agreement to be signed by Education Minister Cecilia María Vélez, Finance Minister Alberto Carrasquilla, and CAF representative for Colombia Freddy Rojas Parra next Monday.
The signing of the agreement formalizes the CAF loan to Colombia for US$15 million from funds established in the Conpes 3360 Document of June 27, 2005 for developing these educational levels.
An additional US$10 million will be provided by the Organization of Petroleum Exporting Countries (OPEC Fund), along with US$10 million from the national budget, which guarantees total financing for the strengthening project for the 2006-2009 period.
The program is designed to create appropriate conditions for productivity and competitiveness through the training of human capital, based on the linkage of the strategic productive and the education sectors which, in alliance, can access economic resources to develop specific projects that guarantee appropriate academic programs and the required labor skills.
To access the funds, institutions have to submit proposals aimed at transforming the technical and technological curriculum to a skill-based approach, improving physical infrastructure, modernizing technological equipment, designing plans to improve quality, updating bibliography, and designing management models for higher education institutions.
The academic benefits will be transferred to the productive sector with human resources that respond to its requirements through the alliance with the institutions.
The objectives of the project are to generate 30,000 new places in higher education, enroll 80,000 young people in secondary schools through links with higher education institutions, expand and improve the offering of technical and technological programs in at least 30 Regional Higher Education Centers (CERES), and support the decentralization process of the technical and technological education institutions still attached to the Ministry of National Education.
For the national government, technical and technological education offers the possibility of improving the standard of living of the people through creative development that opens the way for interaction on equal terms with their neighbors and the world.