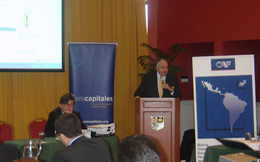 Workshop on Corporate Governance
June 14, 2006
The four-day workshop is for executives from leading Peruvian companies.
With support from CAF, experts from the Spanish IAAG consulting firm are giving a workshop on corporate governance.
(Lima, June 12, 2006).- Lack of finance and partners for implementing expansion plans are often a headache for Peruvian companies because the way they are managed and governed does not create investor confidence. For this reason, continuing the development of good corporate governance practices, the Andean Development Corporation (CAF) and ProCapitales today launched the Training Workshop on the evaluation and implementation of the corporate governance standards included in the Guidelines for an Andean Code of Corporate Governance (LCAGC).
Alfredo Ibargüen, partner director, Paola Gutierrez Velandia and José Gómez-Zorrilla, experts on corporate governance from the Spanish consulting firm IAAG Consultoría & Corporate Finance S.A. form the team of specialists responsible for the training. The participants include general managers from leading Peruvian companies. The workshop is being held in a well-known hotel in the Peruvian capital from June 12 to 15.
During the opening, CAF director representative in Peru Germán Jaramillo said that corporate governance is one of the main factors for improving the competitiveness of companies and the growth of countries. "There are many ways of improving corporate governance but knowing how to implement these standards is a factor that creates competitive advantages for companies, as is the development of a culture of corporate governance," he added.