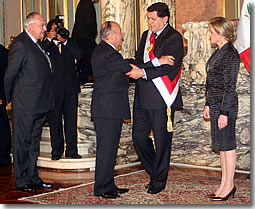 CAF's Executive President attended the inauguration of Alan García
Lima, July 31, 2006. - The Executive President of the CAF, Enrique García, paid an official visit to Peru to take part in the inauguration ceremony of Peruvian President-elect Alan García Pérez held on July 28. Highlights of the events accompanying the ceremony included the speech given by the Peruvian President before the Congress of the Republic and the traditional official greeting offered from the Golden Salon at the Government Palace.
It will be remembered that some weeks ago, Enrique García announced the CAF's willingness to grant Peru financing of up to US$4.5 billion during the period 2006-2010 for projects that include both sustainable development programs and measures of vital importance for obtaining results in reducing poverty and social inequality.
During his visit to Lima, Enrique García also had an audience with the outgoing President, Alejandro Toledo Manrique, who offered warm words of thanks for the considerable support that the CAF had given the Peruvian government during his term in office, so promoting projects of strategic importance for the development of the country, among them the Camisea gas project, the North Amazon and South Interoceanic highways, and the Olmos project.