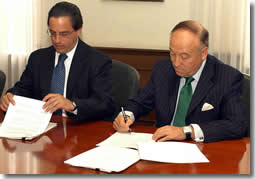 Contract for US$250 million with Colombia to strengthen Institutions
August 14, 2006
The Executive President of CAF signed agreements of importance for the country
(Bogotá, August 14, 2006). Two contracts amounting to a total of US$250 million have been signed by the Executive President of CAF, Enrique García, and Colombia's Ministry of Finance, Alberto Carrasquilla.
During the signing ceremony, CAF's Executive President of reiterated the interest of this multilateral financial agency in taking an active part in furthering the strengthening Colombia's institutions and competitiveness and also in its development.
The first of the contracts signed is for US$150 million, which is to go to the Program of Reforms for Competitive Insertion in International Markets. This program aims at improving the country's competitive profile on three fronts: competitive insertion, opening up and adapting the financial platform, and upgrading technology.
The second, which is for US$100 million, covers the Consolidation Program for Constitutional Reform in the area of Pensions, the purpose of which is to carry out a number of measures aimed at implementing a series of reforms in the Colombian pensions system with a view to consolidating mechanisms that will make it possible to reduce fiscal pressures and, at the same time, improve the equity of the system in terms of its coverage.