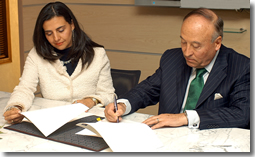 Support for the country plan Visión Colombia 2019 under a technical cooperation agreement with the DNP
(Bogotá, August 16, 2006). Ratifying Corporación Andina de Fomento's (CAF) support of the Colombia's medium-term country plan Visión Colombia II Centenario: 2019, Enrique García and the Director of the National Planning Department (DNP), Carolina Renería, signed the second phase of a technical cooperation agreement for implementing the social aspects of the plan, so giving continuity to Phase I initiated last year.
This project seeks to incorporate proposals from the country's different social, economic, and government sectors into Visión Colombia 2019, with the idea of producing a final document that will make it possible to lay the bases of a State policy for the medium term.
To be specific, Phase II focuses on getting the economic sector, academia, civil society and regional authorities to participate by contributing social inputs to project's technical document. This process will make it possible to identify areas having potential and those with social problems and define, democratically, the measures to be taken to generate most impact and devise the necessary public policies.
At the signing ceremony, the DNP's Director highlighted CAF's support of Visión Colombia 2019 and the country's Domestic Agenda, of particular importance given that these initiatives are fundamental for the elaboration of the National Development Plan 2006-2010, which will have a marked social focus.