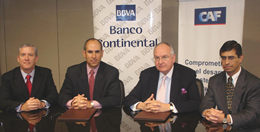 The CAF borrows soles from Peruvian banks
This is the first time that the Corporación Andina de Fomento has taken out a loan in local currency from Latin American banks.
The loan contract signed by the CAF and BBVA Banco Continental is for 50 million new soles, its purpose, to offer Peruvian micro-financial institutions a new source of financing in local currency.
(Lima, August 10, 2006). Today, the Corporación Andina de Fomento (CAF) and BBVA Banco Continental de Perú signed a Loan Contract for 50 million PEN in order to set up a new source of financing for the Corporation in new soles. The signing took place at the offices of BBVA Banco Continental and those who signed were Germán Jaramillo, CAF's representative in Peru, and Eduardo Torres Llosa and Giorgio Bernasconi, both directors of the bank.
CAF's representative explained, "this unprecedented event assumes enormous importance because it is the first time the Corporation has taken out loans in local currency from Latin American banks and, therefore, from Peruvian banks." He explained that, traditionally, CAF obtained its funds through issues of securities or through loans from international banks in dollars, euros or Asian currencies. He also drew attention to the fact that CAF had recently made issues in local currencies in Colombia, Peru, and Venezuela.
In the opinion of the representatives of BBVA Banco Continental, this operation marks a milestone in the relations between the Peruvian banking sector and multilateral agencies in general and CAF in particular and is a clear sign of confidence in Peru, which will boost national development. "The excellent results we have been obtaining in the past decade and our solid international backing have made it possible for us to be the bank selected by CAF, and we hope to consolidate our relations with new operations that will generate more progress for the country," maintained Eduardo Torres Llosa.
With this loan in new soles, the CAF, acting as a financial intermediary, will be offering for the first time in Peru loans with different payback periods in local currency to Peruvian micro-financial institutions. While this new mode of financing is taking its first steps in Peru, CAF has considered offering it to its clients in the currencies of the other member countries.
CAF's clients in the micro-financial sector that will be the main beneficiaries of this operation are banks, Development Entities catering to S&MEs, and municipal funds. Thanks to this initiative, a sizeable sector of the Peruvian economy will now have access to financing in local currency, and CAF has increased its already wide range of financial products offered in Peru.