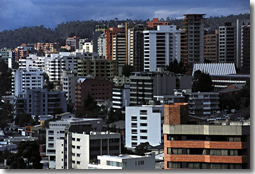 US$300 million for Ecuador
August 08, 2006
The CAF has approved this operation, intended for a revolving credit facility to be granted to the Central Bank of Ecuador
(Caracas, August 8, 2006). - The Corporación Andina de Fomento (CAF) has approved US$300 million for Ecuador through a Committed Revolving Credit facility in favor of the Central Bank of Ecuador (BCE).
As Enrique García, the CAF's Executive President, commented, "with the establishing of this Revolving Line of Credit, we seek to support the specific needs of Ecuador's foreign trade and increase the quotas of correspondent banks in the BCE's favor." "Operations such as the one that is being approved today are, what is more, most timely, bearing in mind that this country is going through a time when requirements for this type of operations have increased owing to the rise in imports, fundamentally of oil derivatives," he added.
Moreover, García said that this operation represented an additional US$200 million to the amount approved by the CAF last December, when approval was given for access to a Committed Revolving Line of Credit for US$100 million in favor of the BCE for the purpose of financing foreign trade operations and the confirmation of letters of credit.
It should be mentioned that the BCE, whose shareholder is the Ecuadorian State, is a bank that enjoys considerable prestige. It is financially solvent, enjoys an adequate level of revenues and profitability, and has good quality assets, ample liquidity and a comfortable solvency margin.