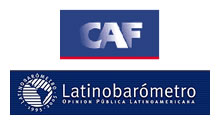 Strategic alliance signed with Latinobarómetro to promote regional development
October 18, 2006
Latinobarómetro today signed a strategic alliance with CAF to deepen its traditional study of public opinion in the region, which began 10 years ago, into aspects that affect development.
(Caracas, October 18, 2006).- A synergy in favor of research and regional development was the description given to the alliance agreement signed today by Enrique Garcia, CAF president & CEO, and Marta Lagos, president of Corporación Latinobarómetro. The strategic alliance will support the analysis of the region by Latinobarómetro, deepening the economic aspects, such as the understanding of the concepts of market economy, competitiveness, international participation, natural resource management, among others.
After the signing, García explained that the association between Latinobarómetro and CAF is a step forward in the interaction of the study with an important actor in the economic area in the region. The study will now include an additional economic aspect, from a market and private point of view, which had not been sufficiently present. "It will also increase dissemination in the countries of the region since CAF is an indispensable communication channel for the use and analysis of Latinobarómetro data," García said.
The objectives given by the two organizations for the alliance can be summarized as: strengthening the Latinobarómetro survey as a monitoring instrument of regional opinion with multiple financing from all who use the data or are interested in supporting its use; providing a debate open to the public for a permanent analysis of the survey results; expanding the dissemination of the project and access to the data via the website to strengthen its use by the political and social actors in the region; arranging regular publications in alliance with prestigious academic institution; serving as a support instrument for decisions on Latin American public policy; and developing public opinion research using empirical methodology, as well as introducing standards of quality among users.
The CAF contribution to the Latinobarómetro project consists of financing a part of the fieldwork in 18 countries of the region, almost all of them shareholder partners of the multilateral organization, and participating in the discussion and inclusion of questions on the subjects evaluated in the study.
Latinobarómetro has been conducting public opinion surveys in Latin America for ten years on issues such as democracy, public policy, the economic model, trends in international trade, geopolitical aspects, and others. The survey has a variety of partners and donors who are not only sources of financing but also a way of interacting with the political, social, and economic actors in the region.