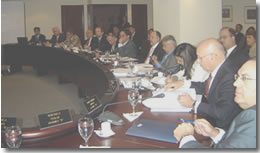 Support for municipal strengthening and decentralization in Brazil
October 24, 2006
CAF approves US$200-million loan for the first phase of the Program to Support Municipal Governments in Brazil.
The loan will partially finance local government investment plans, mainly related to integrated development projects including urban infrastructure, social and basic services, and environment.
(Caracas, October 24, 2006).- As a contribution to the development of Brazilian municipalities, the Andean Development Corporation (CAF) approved the Program to Support Municipal Governments (PRAM) allocating US$200 million for the first phase. The program grants long-term loans in local currency to municipalities that meet the eligibility requirements established in the program. Each loan from US$10 million to US$50 million will be used for execution of projects, mainly economic and social infrastructure, basic services and environment. The Federative Republic of Brazil will act as guarantor of the loan operations agreed under the program with the selected municipalities.
CAF President & CEO Enrique García explained that the program was one of the actions that the Corporation was taking to support the priority policies of the Brazilian government. "Brazil has experienced demographic growth of over 26 million inhabitants in the last decade, mainly in urban areas that were not prepared for the consequent growth in demand for infrastructure and basic services." He added that "the PRAM is conceived to respond rapidly to the growing demand for financing from eligible municipalities in Brazil."
The funds will be used to finance investments and the activities promoted by CAF policies in the area of road transport and infrastructure; macro and micro urban drainage; construction and expansion of potable water storage and sewage systems; sewage treatment; collection and disposal of solid waste; environmental conservation; housing, education and health; improvement of the institutional management of municipal government; and pre-investment studies.