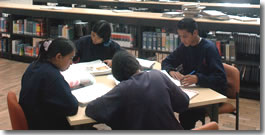 Committed to Education in Latin America
(Bogota, November 7, 2006). The seminar
Education, Journalism and Media
ended recently in Bogota. The event was organized by the Colombian Ministry of Education and Ibero-American New Journalism Foundation (FNPI) with technical and financial help from the Andean Development Corporation (CAF), UNICEF, UNESCO and the Education Commitment of All Foundation.
The event was opened by Claudia Martínez, CAF vice president of Social and Environmental Development. Martínez told an auditorium of journalists and social communicators from leading media in Colombia and 12 other countries that CAF grants a privileged place to the social development of its shareholders. She emphasized the important role that education plays in the development matrix of Latin American countries and the importance of the media in positioning education as a strategic instrument in the agenda of decision-makers and in public opinion in general.
The multilateral financial organization plays an important role in the education sector by financing projects to expand and improve the quality of education in Colombia, Ecuador and Venezuela, and as manager and administrator of the Debt Swap for Education strategy signed by Ecuador and Spain, and the administration of the FEM (Mercosur Education Fund), the regional bloc's first fund.
During the Education, Journalism and Media seminar, Colombian Education Minister Cecilia María Velez White underscored the need to move forward with a regional strategy to disseminate education as the main development priority for our countries.
The seminar was attended by media representatives from Argentina, Brazil, Chile, Colombia, El Salvador, Spain, United States, France, Mexico, Peru, Puerto Rico, Uruguay and Venezuela, who at the request of the organizers agreed to participate in a "Communicators network" to expand and improve the treatment of education in the media.