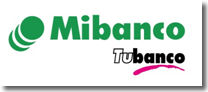 Disbursement in new soles to Mibanco
November 10, 2006
Loan for 10 million soles at two years
CAF demonstrates its versatility in responding to needs and working with its clients in US dollars and local currency.
The operation confirms the Corporation's commitment to support the development of microfinance in Peru and all Latin America
(Lima, November 10, 2006)
.- The Andean Development Corporation (CAF) today announced the disbursement of 10 million soles in favor of Mibanco, which implements the agreement signed by both organizations last September, with the objective of strengthening the offer of products and services for the benefit of the Peruvian microfinance industry.
CAF representative in Peru Germán Jaramillo said that with the disbursement in new soles, Mibanco would be able to accept applications for finance from microenterprises around the country. "The loan, which has a two-year term, confirms the great versatility of CAF in its support for the sustainable development of microfinance in Peru and in the entire region," he added.
Traditionally, CAF granted its lines of credit only in US dollars and obtained its funds through security issues or loans from international banks in dollars, euros or Asian currencies. In this opportunity, innovating its portfolio of financial services, the multilateral development bank confirms its firm commitment to the financial development of its member countries by making placements and raising bank funds in local currency, for this operation with BBVA Banco Continental.
The CAF strategy is to continue giving decisive support to the microenterprise sector by strengthening specialized financial institutions with the objective of providing this innovative financing alternative, which contributes to the growth of microenterprises in Peru.
About Mibanco Mibanco is the leading private institution in Peru serving the business owners of the microenterprise sector. The bank has 70 agencies around the country and over 815 million soles in its portfolio. In 2005, one of every two agencies that began operations in the banking system was Mibanco facilitating access by micro-entrepreneurs and low-income persons with difficulty in obtaining credit, helping thousands of people gain access to banking services. For more information, visit http://www.mibanco.com.pe