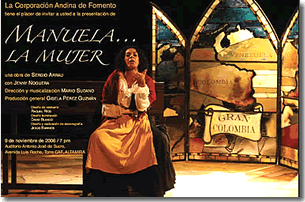 Next Thursday at 7:00pm, the CAF Auditorium will present an interesting production of a one-actor play on the life of Manuelita Sáenz.
(Caracas, November 6, 2006).- Manuelita Sáenz is an attractive personage of Latin American history because of her actions, deeds and thoughts, and her loyalty to a man and a libertarian ideal, for this reason the Andean Development Corporation (CAF) offers its space in the Antonio José de Sucre Auditorium for the production of the play Manuela ... the Woman.
The play takes the form of a monologue written by Sergio Arrau and performed by Jenny Noguera. The play is directed and set to music by Mario Sudano under the general production of Gisela Pérez Guzmán. The event is part of the activities promoted by CAF in favor of the integration of its shareholder countries through varied cultural expressions.
The actress Jenny Noguera, with a long career in theater, cinema and television, was trained by teachers such as Carlos Jiménez, Nicolás Curiel, Javier Vidal, among others. In this work Noguera relives the actions of Manuelita Sáenz as companion of Liberator Simon Bolivar since they first met in Quito, their stormy love affair in Lima, until the final separation in Bogota, with humorous, dramatic and tragic facets.
Sergio Arrau is a Chilean teacher of acting, direction, art and playwriting in universities in Chile, Ecuador, Peru, and Venezuela. He has directed over 200 works for theater in over 50 years of artistic work, winning him many prizes as dramatist.
The director of the play, Mario Sudano, is an actor, mime, announcer, theater director and general director of the Canovaccio Theater. He has recently directed in the Tilingo Theater, Ateneo de Caracas and El Trasnocho, as well as being a member of the Contrafuego Theater. He has received many prizes as actor and director during his career.
Manuela ... the woman is presented in a single function on Thursday November 9 at 7pm in the CAF Antonio José de Sucre Auditorium in Avenida Luis Roche de Altamira. Admission is free.