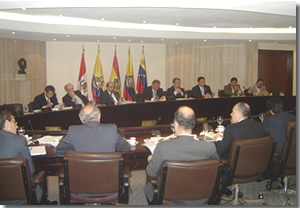 US$200 million for electricity infrastructure in Argentina
November 28, 2006
CAF approved a loan for Argentina to partially finance the Comahue-Cuyo Electricity Interconnection project
(Caracas, November 28, 2006).- The Andean Development Corporation (CAF) today approved a US$200-million loan for the Republic of Argentina for partial financing of the Comahue-Cuyo Electricity Interconnection Project, to be executed by the Energy Secretariat of the Ministry of Federal Planning, Public Investment and Services.
CAF President & CEO Enrique García said that "the energy and transport sectors are two basic areas of economic activity which CAF has targeted in Argentina since it became a CAF partner, all with a view sustaining the economic recovery of the country."
On the Comahue-Cuyo Electricity Interconnection project, García said that it is the second operation of this type that CAF has approved for Argentina this year. "The project has great strategic importance because it not only contributes to improving the security and reliability of the Argentine electricity system, but also supports energy integration through the interconnection of electricity systems in the Cuyo region and internationally with Chile and Brazil."
The project, whose implementation will start in the first half of 2007, includes construction of a 707-kilometer, 500 kV electricity transmission line, a seven-kilometer 220 kV line, repowering of three transformer stations, construction of a new station, and implementation of a communications and telecontrol system. Some value added elements are also planned, such as a specific strategy of social inclusion for the Mapuche community and eligibility for the benefits of the Clean Development Mechanism.
The total cost is estimated at US$413.9 million, with CAF providing 48% of the finance and the Argentine State 52%.