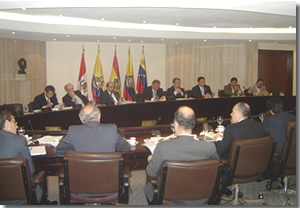 US$500 million for Colombia
November 28, 2006
CAF approved two operations for this country: a contingent US$400-million Line of Credit to back the national government's efforts to execute a strategy to manage the public debt, and a second operation for US$100 million to strengthen foreign trade.
(Caracas, November 28, 2006).- The Andean Development Corporation (CAF) today approved US$500 million for two operations in Colombia: US$400 million for a Contingent Line of Credit for the Republic of Colombia, to be executed by the Ministry of Finance and Public Credit; and a second operation for US$100 million to update the Non-Committed Revolving Line of Credit for Banco de Comercio Exterior de Colombia S.A. (Bancoldex).
On the Contingent Line of Credit, CAF President & CEO Enrique García said that "growth of the Colombian economy has outstripped expectations, thanks to prudent macroeconomic management and the favorable trend of the world economy." He added, "it is just this characteristic of the environment which promotes the continuity of a future strategy for debt management, aimed at strengthening the incorporation of contingent lines of credit, such as that approved today."
García said that operations such as this were instruments that supported public policy by guaranteeing resources for optional execution of debt management, and permitting the Colombian State to take actions to cushion the impact on the national budget at the same time as improving conditions for participation in capital markets, all which will benefit fiscal policy.
Strengthening Colombian foreign trade The operation approved in favor of Bancoldex relates to the updating of the Non-Committed Revolving Line of Credit for US$100 million. García explained that "these actions are part of the CAF strategic guidelines thanks to which we back, through financial institutions, foreign trade, working capital and investment by Colombian companies." This operation brings the total annual amount of approvals in favor of the Colombian financial system to US$400 million.