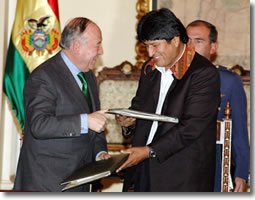 Supports for urban development in La Paz municipality
(La Paz, December 6, 2006).- With the participation of Bolivian President Evo Morales, President & CEO of the Andean Development Corporation Enrique García, and La Paz Mayor Juan Del Granado, a US$14-million loan agreement for the Puentes Trillizos project was signed in the Palace of Government. The project will improve urban development in La Paz municipality.
CAF President García emphasized the importance of supporting regional initiatives that generate high impact in the area of urban development, contribute to satisfying collective needs, and guarantee the integration and participation of citizens in planning and sustainable human development.
The city of La Paz lies amidst mountainous topography. The objective of the Puentes Trillizos project is to improve road and vehicle flow between the east and west slopes with the consequent reduction in travel time, vehicle operating costs and environmental pollution; while reducing vehicle congestion between the central area and Miraflores barrio.
This project, which is part of the La Paz City Road Development Plan, will open a transverse connection between the roads of the city's single longitudinal axis, forming a new east-southwest trunk axis which will define the second road ring with the building of three road bridges with similar characteristics, cable-stayed reinforced concrete: Kantutani (247.42 m), Choqueyapu (223m), and Orkojahuira (227.13m). The construction method of the superstructure (guyed cables) involves the use of self-supporting equipment which slides over the road surface supported by pylons.
The studies were prepared by one of the most prestigious local firms following the planning and control systems for Land Planning and Environmental and Social Management in La Paz Municipality.
With Puentes Trillizos, modern infrastructure will be built for the city that is home to the seat of government of Bolivia and which is growing rapidly, improving the quality of life of the population in the project's area of influence.