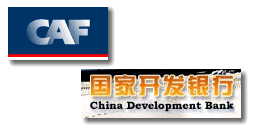 CAF and China Development Bank sign cooperation agreement
(Special, February 13, 2007)
.- The Andean Development Corporation (CAF) and China Development Bank (CDB) signed a Cooperation Agreement to promote joint activities in favor of economic, financial and social development in CAF partner countries. Chen Yuan, president of China Development Bank, and Enrique García, president & CEO of the Andean Development Corporation, signed the agreement in the CDB headquarters in Beijing, China. Both presidents were accompanied by their respective delegations.
During the ceremony García said that "this Agreement confirms the Corporation's interest in forming strategic alliances which strengthen capacities and opportunities in favor of our partner countries, and its important catalytic role in contributing funds, products and experiences from other regions, in this particular case from China."
He recalled that CAF is a multilateral financial institution which promotes sustainable development and integration in Latin America, through efficient mobilization of international financial resources and other strategic activities for the benefit of its 17 shareholder countries.
The framework of action established in the agreement signed today in China focuses on detecting joint opportunities for co-financing in the sectors of infrastructure – particularly rail, energy and sustainable development projects, including education, environment and incentives for MSMEs. Another sector for joint exploration is development of products for the region's capital markets.
The agreement was signed during an official visit by the CAF president to China. The signing confirms the decisions of the two institutions to consolidate a strategic alliance, after executives from both organizations held working meetings in Caracas in 2006.
The CDB is a financial institution of the Chinese state, founded in 1994. Its function is to support development of the national economy, participating actively in key long-term infrastructure projects in Chinese industry, pillars of the economic growth of that country.