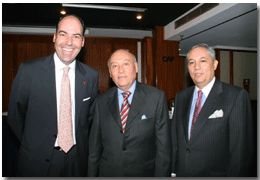 CAF issues bonds in the Venezuelan market
February 12, 2007
The offering in local currency was for 107.50 billion bolivars
(Caracas, February 8, 2007)
.- The Andean Development Corporation (CAF) announced a successful issue of bonds in Venezuela for 107.5 billion bolivars, due 2012. Once again, Citibank Mercado de Capitales, C.A. (Citimerca), Asesora de Inversión y Casa de Bolsa, was the structuring agent, coordinator and placement agent, while Merinvest Sociedad de Corretaje de Valores C.A. was distribution agent.
In June last year, CAF opened the Venezuelan bond market with the first debt issue by a multilateral organization in the country since 1976. This transaction is Series II of Issue 2006 approved by the National Securities Commission in May 2006. The approval is for two years.
CAF President & CEO Enrique García said "the Corporation is committed to the development of markets in the region, as part of our activities to stimulate and support the economic and social development of our member countries." García thanked local institutional investors for their backing, as well as Venezuelan government and financial authorities.
For his part, Francisco Aristeguieta, president of Citibank Venezuela and CITIMERCA, thanked CAF for its confidence in his financial institution as structuring and placement agent. He expressed his satisfaction that the joint effort clearly reflected Citibank's premise of contributing to development of the markets where it is present.
The placement was distributed among important Venezuelan institutional investors, including banks, trusts and insurance companies. The placement of this series was part of the 450-billion bolivar issue approved by the National Securities Commission whose first series was placed in June 2006 for 215 billion bolivars.