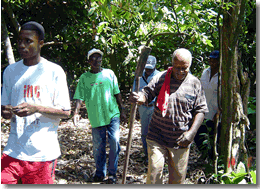 Economic reactivation in Colombian campesino sector
February 22, 2007
As part of its social responsibility actions, CAF is promoting projects for the economic and social reactivation of Afro-Colombian campesino communities in Cauca department.
Since 2005 the project has granted over 200 loans resulting in implementation of irrigation systems and a competitive system of agroforestry production and marketing.
(Caracas, February 22, 2007).- Representatives of the Foreign Relations Office of the Andean Development Corporation (CAF) visited one of the development projects for cacao communities in Cauca department which the multilateral financial organization is supporting in Colombia. The project is one the actions to promote economic reactivation in the campesino sector.
The project is intended to recover the traditional agroforestry production system in the municipalities of Caloto, Puerto Tejada, Villa Rica, Padilla, and Miranda, as well as strengthening the marketing process of their products on campesino markets. The overall objective is to remedty the consequences of a disorganized production system by strengthening the system of organic production in small plots, especially cacao production.
In this second phase the number of families benefiting from training and loans from the revolving fund will be expanded to 700, and ten centers will be started for storage and sale of production.
During the first period, thanks to CAF financing, over 500 farmers and their families were trained in formulation of productive projects; at the same time 400 hectares of irrigation systems were implemented and marketing agreements were concluded with 14 traders and mobile markets. The value of production sold totaled US$50,000 and establishment of the rotating fund resulted in granting over 200 loans for a value of US$65,000.
According to the Colombian Statistical Department (Dane), in rural areas of Cauca 62.2% of the population live in extreme poverty. This situation has been aggravated by the armed conflict which has plagued the country for over 40 years, causing displacements of population, abandonment of productive processes, and difficulties of organization, among other consequences.
This CAF social responsibility initiative is linked to other actions of the Local Opportunities Strengthening Program which aims, by means of micro- interventions in local areas, to generate basic capacities in underprivileged communities in an effort to increase their real opportunities for progress.