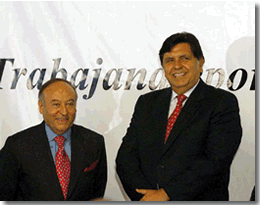 Financial Advisory Agreement Signed with Petroperu
February 23, 2007
CAF will assist the state oil company with financial evaluation and definition of financing structure for the project.
Petroperu and the Andean Development Corporation (CAF) today signed a financial advisory agreement for the Talara Refinery Modernization and Adaptation Project, whose investment cost is estimated at US$1 billion. Under the agreement CAF will assist the state oil company with financial evaluation and definition of the structure and implementation of financing for development of this important project.
The agreement was signed by CAF President & CEO Enrique García and Petroperu President César Gutiérrez, in the presence of Peruvian President Alan García. The work will be divided into two phases: first, financial evaluation and assistance with definition of the structure of the transaction, and second assistance with implementation of the selected structure.
Petroperu President César Gutiérrez welcomed the commitment that CAF has assumed through this agreement, which is to analyze possible available sources of financing for the project, as well as designing a financial scheme to obtain the funds needed to execute the project and comply with the guidelines established by the government authorities.
In his remarks, García thanked the authorities ?? for the confidence placed in the Corporation in the execution of this important task. "It is a project of great importance for Peru. It will improve the Peruvian trade balance through import substitution, permit production of fuel at competitive prices, generate employment in the construction and operating stages of the new refinery, as well as cutting pollution and meeting compliance with the new environmental regulations," he said.
The objectives of the Talara Refinery Modernization Project include modifying its production pattern to cleaner fuels, reducing sulfur content in diesel and gasoline, improving other characteristics of its fuels, increasing refining capacity, adapting to processing low-cost heavy crudes, and expanding capacity to convert residuals into medium distillates (diesel, turbo and kerosene). It also aims to adapt production to common technical specifications for Latin America and the Caribbean in a framework of economic efficiency which will result in competitive prices that guarantee the highest possible volume of local products on the Peruvian market with quality specifications that meet Latin American and Caribbean standards.