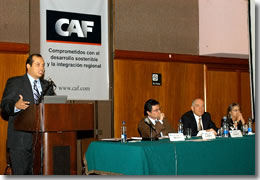 Latin America toward productive transformation
(Bogota, February 22, 2007)
.- An invitation to the countries of Latin America to promote a process of productive transformation aimed at generating greater trade diversification with productivity gains was made by CAF chief economist Luis Miguel Castilla at the seminar
Preparing us to compete: productive transformation in Colombia
, held today and sponsored the Andean Development Corporation (CAF) and Banco de la República.
The seminar analyzed the importance of reorienting the region's economic growth model toward productivity, since the lagged growth in Latin America in recent decades has been associated, among other factors, with low quality international participation which is reflected in a high concentration of exports and a low productivity level which limit the competitiveness of the region's export offer.
Castilla said that exports from most Latin American countries were highly concentrated and based mainly on primary products. This pattern has been exacerbated recently with the boom in raw material markets, which has widened the productivity gap between Latin American countries and the rest of the world.
The experience of some countries after the Second World War shows that productive transformation can increase participation in global markets and achieve economic growth that generates quality employment and systematically reduces poverty.
In this context, a set of strategies was proposed to achieve a productive transformation in the countries of the region including cluster development, implementation of new activities so that countries can move ahead with their diversification process, as well as creating conditions to strengthen the benefits of foreign direct investment.
The event was opened by CAF representative in Colombia Freddy Rojas Parra. The participants were Alejandro Gaviria, Dean of the University of the Andes; Maria Angélica Arbeláez, researcher with Fedesarrollo; Osmel Manzano, acting director of OPPC of CAF; Cristina Fernández, CAF country economist; Juan Carlos Echeverri, economist from Latinsource; Marcela Eslava, researcher from University of the Andes; and José Luis Machinea, ECLAC/CEPAL executive secretary.
The session was closed by Vice Minister of Business Development Sergio Diaz-Granados, and Banco de la República general manager José Darío Uribe.